Sure, it's Friday. But today, TGIF also stands for
This GO! is Fantastic
!
The amazing people at
AccuQuilt
contacted me a couple of weeks ago asking if I would like to try out their
GO! Baby
cutter. I jumped at the opportunity, and my big box of happiness landed on our doorstep Wednesday afternoon. The girls and I had everything out on the kitchen table and played right away. So fun and easy to use!
I've got plans to make a couple of
much-needed cushions
this weekend for my brown leather couches using either the
chisel
or
quarter square
dies. Or maybe I'll use the
tumbler
, which has been a favorite of mine since AccuQuilt released their GO! cutters. You'll also have the opportunity to win your very own GO! Baby. Stay tuned! And in the meantime, learn more about AccuQuilt and get 22 free patterns here: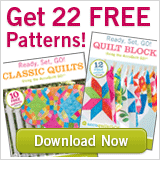 Hope you have a great holiday weekend if you're in Canada or the U.S.! Or a great weekend in general if you're not. Rob has a whole week off, so I'm looking forward to both the family and solo time that comes with him being home. Maybe the
weather
will surprise us and we'll have some sunshine too?